POPCON Asia 2018 X FSD UMN
August 01, 2018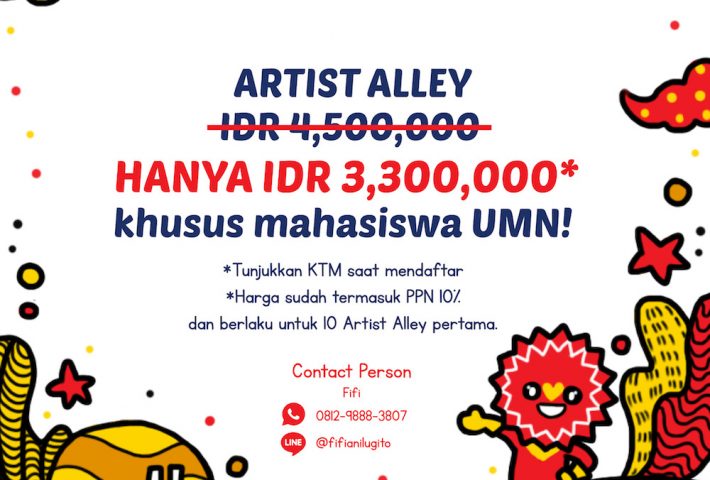 The excitement is near! Sebagai salah satu acara pop culture yang sangat bergengsi bagi para creativepreneur muda di Indonesia, POPCON Asia kembali hadir di tahun 2018 ini dan bekerja sama dengan Universitas Multimedia Nusantara.
Rangkaian acara POPCON Asia 2018 x FSD UMN ini akan dibagi menjadi 3 events:
1. Pre-Event : POPTALK
Hari/Tanggal : Kamis, 31 Mei 2018
Lokasi : Lecture Theatre D, Universitas Multimedia Nusantara
Acara : Seminar kreatif yang bertemakan "Story Development for Creative IP" oleh Ervin Han dan "3D Character Modelling Development for Production" oleh Fabian Loing.
Benefits : Kesempatan untuk mendapatkan e-certificate dan 1 poin SKKM. *
*) syarat dan ketentuan berlaku
2. Main Event : POPCON
Hari/Tanggal : Sabtu-Minggu, 22-23 September 2018
Lokasi : ICE Hall BSD
Acara : Pameran, booth, performance, cosplay, meet and greet, dan sebagainya.
Benefits : Kesempatan untuk mendapatkan harga spesial Tiket Terusan (2 hari) hanya IDR 120.000 (harga normal IDR 200.000) + harga spesial booth Artist Alley hanya IDR 3.300.000 (untuk 10 pendaftar pertama) dan IDR 3.712.500 (untuk pendaftar selanjutnya).
3. Pasca-Event : Coming soon
Dengan adanya acara ini, kami berusaha memfasilitasi mahasiswa untuk berkarya secara aktif dan kreatif sekaligus mengembangkan jiwa entrepreneurship dalam acara yang berskala internasional ini. Jadi, tunggu apalagi? Yuk, daftarkan dirimu dan dapatkan benefits-nya!