VISUAL COMMUNICATION DESIGN
Evolving
Experience.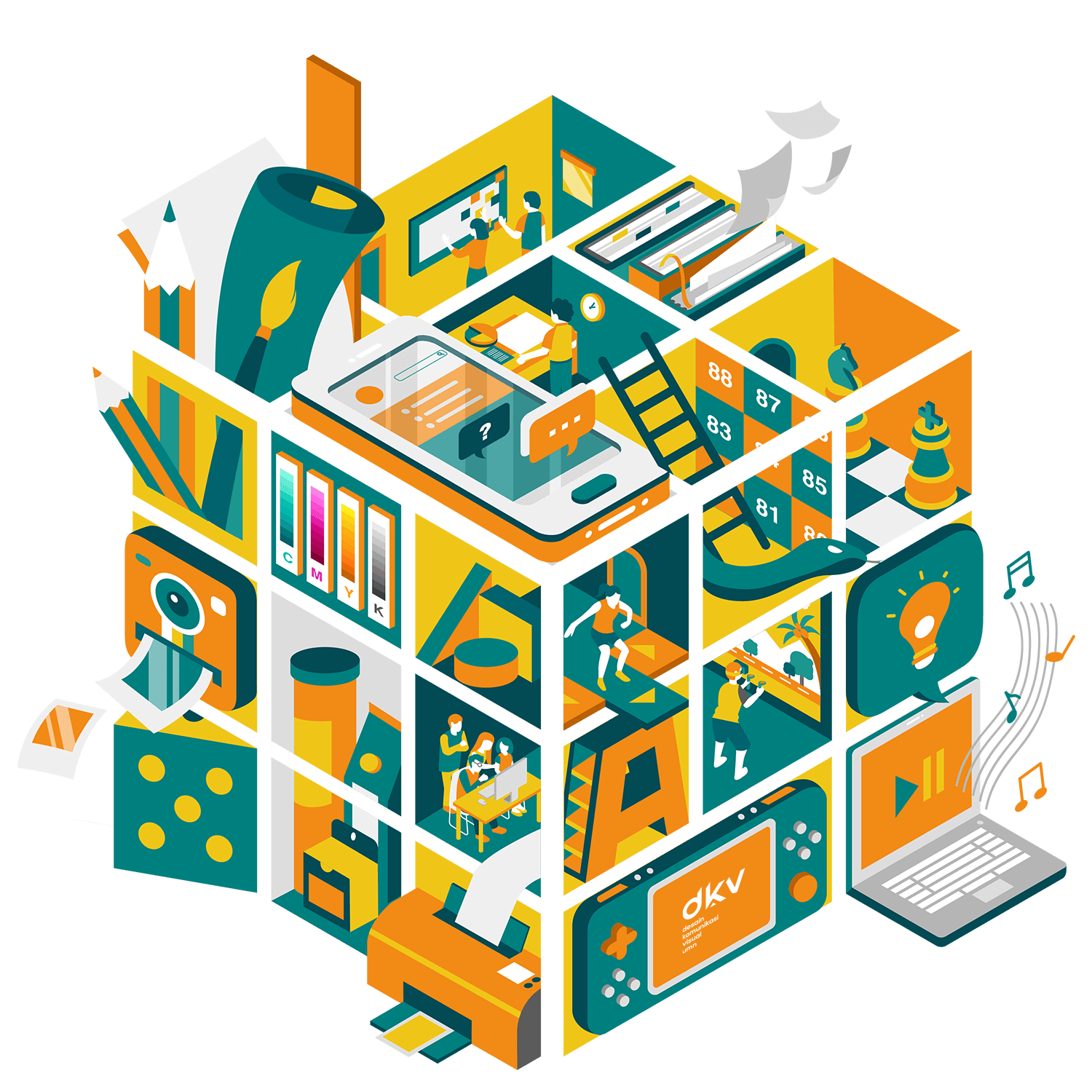 Welcome future creator!
The Visual Communication Design Study Programme of Universitas Multimedia Nusantara is the right choice for you in developing your innovative creativity by forming soft skills and hard skills according to global competencies. There are two major offered by the Visual Communication Design study program; the two majors are Visual Brand Design and Interaction Design. These two future-oriented majors accommodate all communication design needs in various media, including new media that use novel interactions in the form of simulation with virtual reality. Once again, welcome to the gateway of the future of innovation.

Mohammad Rizaldi, S.T., M.Ds.
Head of the Study Programme
Visual Communication Design
Universitas Multimedia Nusantara
Visual Communication Design Universitas Multimedia Nusantara is the only study programme in Indonesia that offers future-oriented majors which are Visual Brand Design and Interaction Design. These majors emphasize the use of modern technology, interactivity, and innovation. Our majors also explore various media ranging from print-based to digital-based for the purpose of creating graduates that are competitive to the global industry.

Comprehensive and in-depth learning of innovative visual skills that combines the experience of practitioners (industry) and puts more emphasis on advanced conceptual thinking in the field of Information and Communication Technology (ICT) as its support by exploring Nusantara culture as its content. Students will also gain a solid understanding of the application of Brand Design in various media to prepare them for the challenges of a growing industry.
Students are taught to be creative and analytical in responding and exploring phenomena to be confident in solving problems visually innovatively and competitively. Visual Brand Design educates students to be able to analyze, design, and implement design communication through a visual brand identity design, brand communication, and conceptual, creative, and innovative campaigns with social, cultural, economic, and technological considerations.
Producing graduates who can analyze, design, implement design communication through a visual design of brand identity, brand communication, and conceptual, creative and innovative campaigns with social, cultural, economic and technological considerations.
Career Opportunies
Graphic Designer
Art Director
Copywriter
Senior Designer
Graphic Designer
Junior Designer
Packaging Designer
Web Designer
Type Designer
Motion Graphic Designer
Digital Photographer
Creative Brand Visual & Consultant
Media Designer
Environmental Graphic Designer
Illustrator
Comic Artist

Learning about interaction design includes games in 2D and 3D screen (digital) interactivity media as well as non-screen (conventional). The Interaction Design major also develops an art-science framework in the practice of interactive media development in the arts and design fields.
Interaction Design major educates students to be able to analyze, design, and implement interactivity through conceptual, collaborative, creative, and innovative visual interaction design with social, cultural, economic and technological considerations.
Produce graduates who can analyze, design, apply interactivity through conceptual, creative and innovative visual interaction design with social, cultural, economic, and technological considerations.
Career Opportunities
Creative Director
Game Designer
Interaction Designer
Cinematic Director
Game Art Director
Game Producer
Art Designer
User Interface (UI) Designer
User Experience (UX) Designer
Game Designer
Multimedia Designer
Game Analyst
Texture Artist
Animator for Interactive Media
3D Game Modeller
Concept Artist
Visual Communication Design
I always believe that VCD UMN Interaction Design Concentration is the right place to build hard skills and soft skills. I was prepared to be a designer with proper design skills and knowledge of design thinking and human-centered design, and I was also made aware of the future of media which led me to my career at Game4Change. The project assignments also gave me the opportunity to develop soft skills such as the ability to empathize with users, teamwork, communication, negotiation, as well as project and time management.
Ryan Sucipto
Founder & Chief of Product of Game4Change, Creator of Wilah Cardgame
Hello, my name is Derrick. I studied at VCD UMN Interaction Design Concentration in 2014. Now I work as a UI designer at DANA. General qualifications for this career include Prototyping, Typography, Iconography, and User Flow. One of the skills that really help me at work is Creative/Critical Design Thinking that I got from studying at VCD UMN. The courses in Interaction Design also thought me a lot about new media and the future of information which led me to be able to create designs that can be useful for the future. Soft skills such as Critical Thinking can be the differentiating factor. Soft skills and hard skills are equally important in the workplace. Some of the soft skills that I implement in my work I developed during my study at UMN, including time management, teamwork, and decision making.
Derrick Lionardy
UI Designer at DANA Indonesia
Studying at UMN VCD UMN (VBD Concentration) was the best decision that I will never ever regret. VBD taught me all, from the basics until to the most difficult knowledge, especially about branding. In here, I learned that the creative process is the key, from finding the uniqueness of the product to addressing them in visual designs. I'm now responsible for handling digital ads and paid marketing designs in the company that I'm working with (Ruangguru - PT Ruang Raya Indonesia). I discuss with C-Level and other marketing divisions every once a week about how to make our branding and products more attractive and more selling, and I always share my problem-solving ideas from the design perspectives, from the knowledge I got from VCD UMN. I also learned about leadership, responsibility, and teamwork collaboration. I've learned that communication and handling emotions while working in a team is important. And all of this hard-skill and soft-skill had combined and guided me to get three achievements from my company, The Best Intern of The Month for 2 months straight back in August-September 2019, and got Chief of The Month in Marketing Division in December 2020.
Achelia Setiani
Creative Designer Ruangguru (PT Ruang Raya Indonesia)
From aspiration to creation. As a Graphic Designer at Leo Burnett Indonesia, I am required to do ideation, directing, and visual execution to create advertisements and campaigns that give positive impacts on society. I developed these skills during my study in the Visual Communication Design program at UMN especially in Visual Brand Design concentration. All the learning processes, the faculties, and the organizational life at UMN prepared me to enter the branding & advertising industry in Indonesia. Beyond just teaching academics, VCD UMN taught me leadership skills and the determination to always perform my best. Seeds planted in good soil will bring forth good yields. And that soil is VCD UMN.
Ovita Pattari Purnamadjaya
Graphic Designer at Leo Burnett Indonesia (Publicist Group)
Hello, my name is Vania Hefira. I studied in DKV UMN Visual Branding Design concentration batch 2016 and graduated in 2020. Now I'm a Project Manager for several iOS-based apps on Appstore. During my 3.5 years of studying at UMN, I learned visual branding and design thinking concepts from great lecturers. Those skills boost me during my internship as a Product Designer at Kompas.id under Kompas Gramedia Group and during my time as a UI/UX Designer at Apple Developer Academy. Equipped with the knowledge and skills, I can create designs that provide solutions to problems in society. Aside from studying, I was also able to enhance my collaborative and leadership skills by participating in organizations and committees, for example when I became the Head of Seminar of Ultigraph 2019 to coordinate seminars and workshops with foreign speakers and audiences. These skills are indeed essential for me in the working field. Thank you UMN!
Vania Hefira
Project Manager for Boo ForRest app | Apple Developer Academy Graduate
Hello! I'm an alumnus of VCD UMN from Interaction Design concentration, and now I'm working as a UX Researcher at DANA. As a UX Researcher, my job is to observe what our user needs, pain-point, current problem, as well as building new products to make sure all of the DANA users are satisfied. Everything that I do now, rely heavily on what I've learned from studying as an Interaction Design concentration student. I've learned a lot of different knowledge related to Human-Computer Interaction which helped me in my work current place. UX Researcher is very well connected with collaboration and teamwork, as well as the ability to brainstorm and evolve ideas. And I'm so grateful that I've got the chance to learn all of these soft-skills when studying at VCD UMN by joining community, organization, activity, and courses that require public speaking, collaboration, teamwork, etc. Thank you!
Jason Widjaja
UX Researcher at DANA