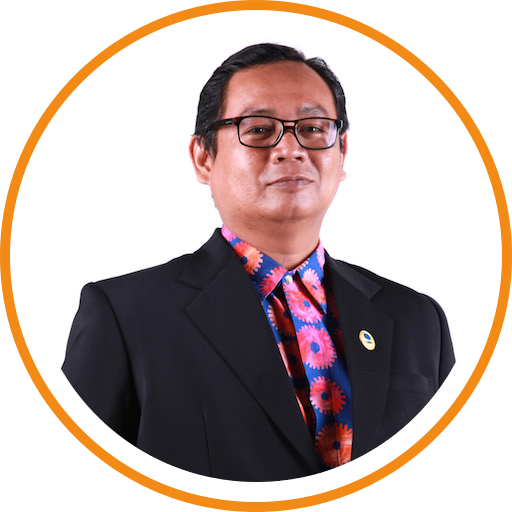 Erwin Alfian, S.Sn., M.Ds
Graduated in Master of Design, Institut Teknologi Bandung in 2007, he started his career as a professional Junior Graphic Designer in 1994 at a Graphic House in Bandung, mostly worked on media publications for local companies. It was only in 1996 that he set his foot in the city of Jakarta and started a career as an artistic editor in several national publishing media, making him began to build interest in the world of marketing, especially for Brand Identity that led him to become an Associate Designer at the Marketing research firm MARKPLUS & CO which introduced further to the world of Visual Branding. In 1999, he began to build an independent business with the concept of Graphic Service that produces Visual Identity, Company Profile, In-House Magazine and Packaging with the main client, Kimia Farma Inc., Indofarma Inc., Garuda Inc. and Abacus Indonesia. The emerging of hypermarkets in Indonesia in the early 2000s opened new opportunities for the development of the field of design science to collaborate Visual Communication Design, Marketing Research, Interior Design, Industrial Design and Psychology, which eventually inspired this Bandung-born man to develop a design business, with the first product concept in Indonesia called In-Store Communication Design. After collaborating with several colleagues in the city of Bandung, in 2003 he finally established WIN DESIGN with partners Carrefour, Giant, Hypermart, Hero, Yogya Dpt., Yomart, Nutricia, Frisian Flag, Meadjohnson, P&G Indonesia, Tiga Raksa, IPB Center, etc., which focus on handling consumer goods and beauty products.
Behind his busy life as a practitioner, he still contributes his knowledge in the world of education, especially in the field of Visual Communication Design studies. From 2001 until 2010, he became an outstanding lecturer at the Faculty of Design & Art, Universitas Komputer Bandung. From here, he began to introduce the world of In-Store Communication Design to his students, and invited some of the university's graduates to join the company he led. He also experienced working as a business performer in the design industry. At the Faculty of Communication Sciences, PAKT UNPAD, he was an extraordinary lecturer for the Business Communication course from 2008 to 2009. He began to become a lecturer in the visual communication study program at Pembangunan Jaya University in 2011, and finally joined UMN in 2012.
DEPARTMENT
Foundation Year Coordinator and Visual Communication Design Lecturer
01. Indonesian Traditional Script & Typography
02. Social Campaign and Advertising in Indonesia
03. Children and Generation Z Oriented Human-Centered Design
* Penggunaan Unsur Aksara Nusantara Pada Huruf Modern
* Perancangan Typeface Latin Wicaksana Adaptasi Dari Aksara Jawa
* Brand Rejuvenation Design of Kecap Banteng
* Perancangan Typeface Aksara Lota Ende
* Perancangan Print Ad Menggunakan Teknik Visual Anamorphic
* Designing Point of Purchase Standing Alone Category Using Visual Anamorphic Techniques for Modern Retails
* Peranan Industri Dalam Meningkatkan Kompetensi Calon Lulusan Melalui Tugas Akhir
* Peranan Desain Grafis Dalam Menggali Potensi Lokal Melalui Kegiatan Collaboration Project
EDUCATION AND EMPLOYMENT
(1993 – 1997) Bachelor of Design at Indonesian College of Fine Arts and Design (STISI)
(1994 – 1996) Junior Graphic Designer at PT Capung Hijau Terakota Bandung
(1997 – 1999) Graphic Designer at PT KIMUS Jakarta
(1999 – 2002) Founder/Creative Director at PT. Jagad Rancang Satmata Jakarta
(1999 – 2002) Associate Graphic Designer at Markplus&Co
(2001 – 2010) Lecturer of Design & Art Faculty at Indonesian Computer University, Bandung
(2003 – 2009) Founder/Design Manager at PT Wahana Inovasi Design
(2004 – 2007) Master of Design at Bandung Institute of Technology
(2008 – 2009) Lecturer of  Communication Sciences Faculty at PAKT UNPAD Bandung
(2009) Owner of Echallium Design Bandung
(2010) Owner/Design Specialist at Vifera Design Jakarta
(2010) Design Marketing Advisor at PT Garuda Mas Mandiri Indonesia
(2010 – 2012) Lecturer of Visual Communication Study Program at Pembangunan Jaya University, Tangerang
(2013 – present) Permanent Visual Communication Design Lecturer at Multimedia Nusantara University
AFFILIATED ORGANIZATIONS & COMMUNITY
AWARDS
Jakarta DEKRANASDA Craft Jury 2018-2019